A company that makes stable advancements step by step
Booyoung Group's philosophy is to be a stable tricycle.

When making a fail-proof company, we believe that stable management is much better than fast advancements.
'The tricycle' also represents our 3 core businesses, which is real estate, finance, and construction.
Thanks to president Lee Joongkeun's 'Tricycle Philosophy', leasing business, which is one of our core businesses, was able to grow and make our company one of the major conglomerates.
Leasing business earns less profit compared to other housing businesses. However, the rate of leases is much more stable than sales, resulting in making the business risk-free.
In other words, leasing business isn't as fast as a bicycle, but is stable and safe like a tricycle.
President Lee Joongkeun's management philosophy was gained through his own experience. A company's goal & duty is about its existence itself, rather than about constant growth.
A large company is not exclusively owned by its owner or president.
Countless employees are counting on the company support their family.
We emphasize that "A company should focus on being stable enough to support its employee's everyday lives."

Management goals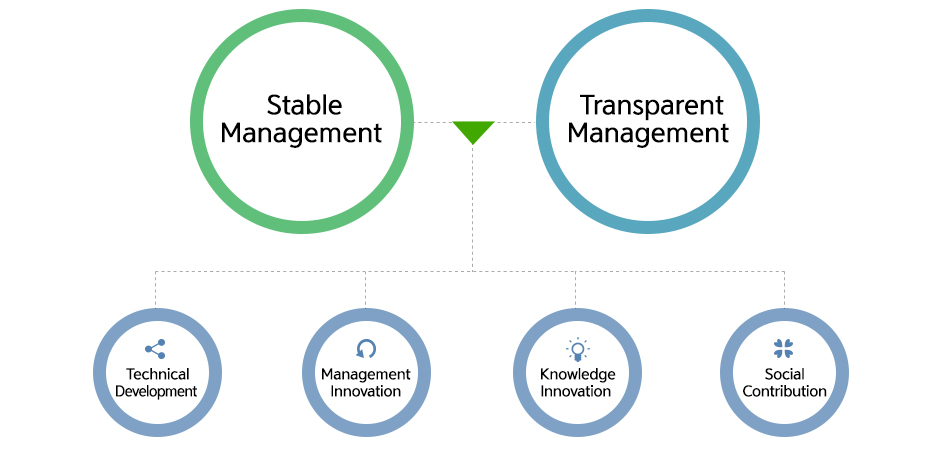 As 21st century began, houses are no longer just a place where people live, but also a place that will enhance people's quality of life.
While keeping our philosophy of 'Stable & Transparent Management', we will continue our efforts in developing new technologies and innovating our management methods to provide safer, more comfortable, and better apartments to our customers.
Also, our knowledge-based management tactics will allow us to create new knowledge and strengthen ourselves, resulting in constant improvements and innovations.
Along with these, we are providing scholarship programs, and donate educational & cultural facilities to make contributions that will solidify our position as a part of the society.